I was browsing other blogs yesterday and I came out
A Little Bit of This and That
with a neat-o get to know more bloggers and let more bloggers know about you project. So I decided to participate. Mind you, since I just started blogging last month, my answers won't be filled with thought-provoking answers or just lengthy and in-depth statements but that will all come in time. But I am doing my part for this project :-)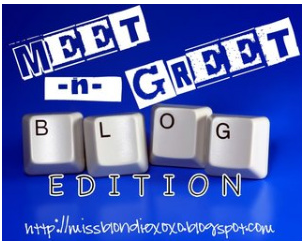 1. My blog is a little sneak peek into my daily life as a wife, mother to a dog, a baker, a house project designer on a budget, and a friend. I just started blogging last month! I started blogging because I would read other blogs daily and was getting a lot of great ideas from their blogs. Ideas for decorating my home, for cooking and baking and for just doing things about one's daily life After reading other people's for awhile, I decided to give it a shout so here is my try! What I love about blogging is meeting other bloggers, being able to write and have a little place to call my own and just let me be me.
2. My top 5 favorite posts are any of my Tuesday Treats posts, the post I just wrote about my passport and the post about my cute and very friendly dog, Kip.
3. Since I am still new at this blogging adventure, I haven't received a ton of traffic on my posts but I hope through this meet and greet project, I will gain more followers and meet new friends!

4. Currently, I do one weekly feature called Tuesday Treats. My Sean and I belong to a couples bible study and for a little bit, snacks were a rare occurrence and when bible study moved to our house each week, I love to entertain and provide yummy treats for my friends. So whether bible study is at our condo or hosted by another couple, I still bake. I called it Tuesday Treats because I do my baking on Tuesday nights. Look for it each week! Sometimes I may post just one recipe or other times it will be two.
Please introduce yourself to me, I love to get to know new people and my signature line in all my emails and for life is just keep smiling, so just keep smiling folks!