Happy Sunday all! Hope you are having a good weekend so far. I'll post about my weekend on Monday because I want to share some photos but it included Bass Pro Shop, an attempt to see snow, which there wasn't any and the four of us hanging out, Sean, me, Kip and Kimbia1


I want to introduce you to my January sponsors. Thank you to each of my sponsors for supporting henning love for the month of January! If you noticed a little different look to my blog, a signature and tabs, that is thanks to Amanda of
Royal Daughter Designs
! She did an awesome job, don't you think?
Now to the January sponsors. I asked each of them to provide a blurb about themselves, their blog, what is their New Years resolution and how do they intend to keep it :-)
The first sponsor is Sam of Petite Femme Jolie.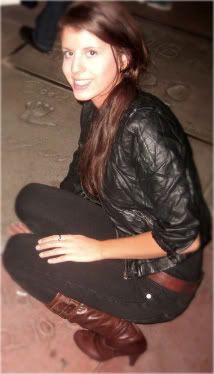 My blog is something you may refer to as a schmorgasboard - I blog about adventures, DIY projects, pretty clothes, baking goodies, and life with my handsome boyfriend of 4+ years! I'm a twenty-something self proclaimed girly-girl who desperately wants to learn how to crochet like a little old lady.
In 2012, I am determined to quit biting my nails. Gross, right? It's a tough habit to quit! Do you realize how much money I'd save if I didn't have to get gel manicures every other week!? I'd be living like a queen. A rich, rich, queen.
Please visit my blog and say hello!
Happy New Year!
The second sponsor is Callie of The Good Life
Hey Yall!!
My name is Callie and I blog over at
The Good Life
. The name for my blog came a from a bible verse (one of my all time favs) that I had always had on my facebook. "He fills my life with good things" Psalm 103:5. The day I decided to start my blog, I happened to run across that section of my facebook... (I mean who even looks at that part of their facebook anymore??) And I instantly knew that's what I had to call it. Because let's face it, even on my worst days, I have a great life. I am way more blessed than I deserve.
I am a small town Mississippi Delta girl with a thick southern accent. I am very simple and love my husband, family, friends, God, the MS delta, fashion (I have a slight shooping addiction...), decorating, msuic, cooking, themed parties, cocktails (keepin' in classy over here), taking pictures (but I am no photographer... don't get any crazy ideas), weddings, hunting, football and Mississippi State University!
On my blog you will find a little about all of the above... I like to call it the bi-polar blog, bc it's all over the place! And I love it that way, bc it's perfectly me. I blog how I talk and I wouldn't have it any other way.
My new years resolution for 2012 is to start running again. After not running a day in myentire life, in January 2010 I decided I would start. And by December, I ran the St. Jude half marathon. Over those 12 months I kind of burned myself out on it, so I haven't run much since. I have resorted to spin class, the elyptical and weight machines for my workouts. But I have never been in better shape than I was when I was running, so I am going to get back into it. I have already scheduled a 5k for January, a half marathon for the end of March and the "Warrior Dash" (3.5 miles with obstacle course and comes with a Viking Helmet... YES!!) in April to hold me accountable. Now I have no choice but to stick to it :)
The third sponsor is Rachel of Elle Lorraine.
Hey, my name is Rachel and I blog over at
Elle
Lorraine. I'm a twenty-something year old livin' & lovin' life in sunny Southern California. My blog is me sharing my journey I contemplate my career, find and decorate the perfect new apartment, and hopefully meet my prince charming- all while being the crazy, stressed out, basket-case that I try to pretend I am not. Oh yeah, and I occasionally drop in an outfit of the day post.
My new year resolution is to actually make things happen. 2011 was my sorting out my life year. 2012 is the year I'm going to make it happen. In 2012 I'm going to make a career change, (hopefully) move again, learn photography, jump into the dating world as opposed to dabbling in it, and so much more! It's only January 2nd and I can already feel it! Venture on over to my blog to watch this awesome year unfold!
The fourth sponsor of Nicole of the Lovely Poppy.
Remember this lovely necklace I wore?
Nicole makes those and I am happy to have her on my blog this month!
Greetings from WIsconsin. My name is
Nicole
and I'm the lady behind
The Lovely Poppy
. When I'm not at my 8-5 job, you can find me crafting away in the studio. My blog features new craft tutorials, my addiction to revamping purses, and my love for handmade businesses. My shop features floral accessories, which include necklaces, headbands, camera strap slipcovers, dog collars and more. I'd love to have you stop by and check things out. I have a pretty cute little puppy that you may want a glimpse of :-)
I've never made New Year's resolutions. I am continuously making goals for myself and the biggest current goals are to increase my product line and to reach out to more new handmade business owners.
The next sponsor is Cerrisse and Dottie of The Posh Daisy.
I love her name, do you know it means cherry in French?
"Hi, we are
Cerrisse
Wood and Dotti Higley. We are mother and daughter and co-owners of the Posh Daisy were we create fun chic jewelry and accessories. We live in Saint George Utah and love the rugged surroundings.
Cerrisse
married her best-friend and has a darling, busy, bundle of energy, son named Jaxon. Dotti married her high-school sweetheart and has five children and four grandchildren! She also moonlights for a non-profit housing developer when she isn't creating new accessories.
Cerrisse
is a homemaker and is the driving force behind the Posh Daisy. Not only do we work together but spend a lot of time laughing! It doesn't get any better than that.
Our new years resolution would be to spend more time together as a family, sometimes we get overwhelmed with social media and our jobs. But we are making it a priority to make family first, because it's the most important!"
I'll have a few more sponsors for you to meet later on! And remember I have a Shabby Apple giveaway going on until this Friday!