Here we go, round 2 of Kasey and I's bachelorette link-up! Last week's bash wasn't as well attended as we had hope so here is hoping, more bloggers will join us this week. We are just want to have fun with this link-up and just be girls gushing or gawking over this season of the bachelorette. By the way, what are your thoughts on the constant tweets appearing on the bottom of the screen this season?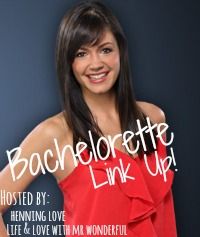 The first date (and first kiss!) went to... Brooks! Really a wedding salon for the first date, talk about no pressure or anything. Then to the Hollywood still wearing a wedding dress and tux, my only question is how dirty did that beautiful wedding dress get with her wearing it all afternoon and evening? Does anyone else want to have a dinner date on a bridge after seeing the last part of Desiree and Brooks' date? I do!
The group date was making a rap video. Before I go any further, I feel that Brandon has the potential to be creepy Kasey from Ali's season, remember the one that got a tattoo on his wrist to prove his love for Ali? Yah I am getting that creepy vibe from Brandon. Some of those characters and outfits were very interesting that is for sure.
The shirtless man has depth all, he has depth! Oh Ben, Desiree didn't even respond to your question if you could kiss him, let her finish, that is what a respectable gentleman would do.
The last one on one date was with Bryden, who is my current favorite for her at the moment. Doing a road trip up California is one of the best dates I have seen on this show. How adorable was it when Desiree asked Bryden if he liked brie and he said he didn't know what that was. Yup I am definitely liking this one on one date and Bryden with Desiree. She better have given Bryden the rose at the end of the date or else. I love how she said just kiss me already!
The cocktail ceremony was all about Ben, Ben, Ben, Ben! Dude you got a rose give it up already,
Oh Chris Harrison you are so wise with your there is drama that is a good thing it means you all are taking this seriously. Thanks for the enlightenment Chris!
For the three that went home, Will the high-fiving guy from Chicago, sign twirling guy Robert, Nick M, better luck next time.