Today is the first official bachelorette link-up that
Kasey
and I are hosting.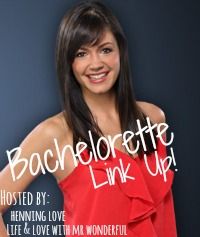 I usually watch the episode by myself, so this is the second best thing, getting to read all of your opinions of the previous night's episode. Don't fret if you didn't get a chance to watch the show last night or could link-up today. The link-up will be live until Friday so watch the episode on ABC.com or Hulu and then link-up your recap. All Kasey and I ask is if read Reality Steve or any other spoiler alters, DON'T share them with the rest of them. Or else just write in your post SPOILER ALERT, that is all we ask. This link-up is meant to be fun, silly and a chance to "hang out" with a bunch of girls. Without further ado, here is my recap!
Meet the Men episode: Desiree met 25 guys and had to send 10 home the first home. It is all about the first impression and clearly the guys got that memo for the most part. These are my opinion on first impressions but not all of them, in the order of when they stepped out of the limo,
Drew
, what a sweetie, I could see him lasting!
Brad
had a cute idea with the wishbone. I definitely like
Bryden
, lets blame it on the military uniform and call it even ok?
Kasey
is from San Luis Obispo and I love that area so I'm in on him already but the hashtags idea, keep brainstorming! If
Will
keeps high fiving throughout the entire episode and beyond that, I am over him.
Mikey
, one word, beefcake.
Jonathan
, no words... Then hello
Zak
, apparently he forgot the memo to wear a shirt!
James
was super nervous, poor guy. Good luck to that guy wearing the suit of armor all night long! By the way, my husband who never watches the show walked in the room last night and said I am rooting for
Chris
from Seattle!
Mike R
, sorry but McSteamy is on Grey's Anatomy and is a doctor, not a dentist. Hey Des, if you can't pronounce his name, hm... either learn it or move on.
Micah
, that suit, I think you need to head back to the drawing board.
Nick
was really sweet with that poem and very down to earth.
Ben
and his son seriously stole my heart.
After the meeting of the guys, then let the feeding frenzy begin! Who is she currently talking to right now and how I can get my time to talk with her? Who has the first rose and how can I talk smack about him? Good call on sending Jonathan home before the rose ceremony, he was way creepy anyways.
The rose ceremony: Magician is gone, awkward dancing and dip first impression is gone. Diogo, did you even come out of the limo? Apparently I missed it.
So that's my recap, check out the fabulous
Kasey's
for this link-up, then add your Bachelorette re-cap and check out the other girls! Also if you could post the button Kasey made for this link-up, that would be super. Thanks! You know where to find this link-up, every Tuesday for the next several weeks until Desiree finds a husband.