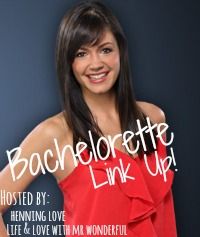 Madeira is the perfect place to fall in love right?? You betcha! Classic Bachelor/bachelorette opening episode line. Then the random Des hanging out with previous bachelor contests all from Sean's season, yes lets all be best friends after having all competed for the same guy's heart and of course there was sitting Cat, saying, "I won him girls and got a major bling ring from him!"
I love the binocular spying because that isn't obvious at all!
Brooks get the first solo date of the episode. I really hope too Des that both of you are falling in love because isn't that the whole purpose of the show, or suppose to be? Then comes the cheesiest line of the entire episode, welcome to cloud nine and a breakthrough in your relationship.
This whole season is full of awesome one-liners that should never be repeated again like Chris's fist pump like Tiger Woods.
Why oh why does every guy want to share their sob story with Des? Oh of course, if it isn't a private concert by some unknown artist then it is a private fireworks show that concluded their date.
Then Chris gets the next one on one date, which how creatively leads to another poem, I think that is the third poem between them.
Oh Des they didn't just meet your high school boyfriend, remember they met Sean? Remember that, remember that conversation between Sean and your brother?
Then Michael fiiinnallly gets his one on one date. Enough said about that date.
Go-karting is a good idea for another awkward two on one date but this time if you don't get a rose, you don't have to leave just yet... then Drew gets the rose.
Des sits down with Chris Harrison and reveals she has fallen in love with... Brooks! But does he feel the same way back? We don't know, which leads us into the rose ceremony and there is a lot of pressure because whoever gets a rose tonight gets to take Des to their hometown because we didn't hear that enough during the episode. Just in case you forgot, the four guys who got the roses last night get to take Des home to meet their families. Are we clear on that? Good!
Michael doesn't continue to float by like he has all season long, Zak W gets the rose. He looks stunned and Zak W looks relieved.
Then Michael calls his mom in the car, yup true story, he called his mom during the car ride of shame.
The end. Until next week...