Two episodes people, two episodes left then we can finally close this chapter of Des's book of life at least until either she and the fiance break up or they get married. Then all the rumors will be circulating among the tabloid magazines about he said/she said or they can have a happy TV wedding with all expenses paid for by ABC.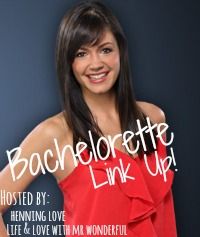 Has anyone been to Antigua? Can you say it is a perfect place to fall in love? Then there is Drew taking the first date, pulling out to just kiss her. It was deja vu back to their first solo date when he just wanted to kiss her all the time. I think Drew needs to work on his limbo skills personally...
Oooh suggestive, Drew: "I have never had a good morning, I have only had good nights"
The episode turns to Brooke pouring out his heart, sharing his fears to his mom and sister.
I will throw in some commentary from Sean, my husband during this episode. He was downstairs watching and I was upstairs, he was eating a late dinner ok folks. When Drew and Des were getting hot and heavy, Sean yelled to me, slut and then when she met up with Chris in that outfit, Sean yelled, what is she wearing? That is my husband everyone!
Moving on to Chris's date because every season of the Bachelor or Bachelorette has to have the couple whisked away to a private island to have a picnic. Real life people, real life!
Of course Chris has written another poem... anyone else getting tired of him and his poems?

Finally, Brooks... the confessional interview with Chris Harrison followed by water works of both Brooks knowing he was going to break Des's heart and then of course Des when she realized the words that were coming out of Brooks' mouth. I'm not going to rehash their conversation for you all, basically it was a doozy.
And the episode ends with Des crying at the end of the dock...