Oh goodness, you all sure know how to make Sean and I feel loved. Thank you for all your sweet comments and love regarding our announcement yesterday. We are certainly excited and looking forward to sharing this next stage of life.
Now I have to talk about silly girl stuff, the Bachelorette but this episode was the hometown date. That means we are down to 4 guys and not much longer left of this series. I'm sure some of you are saying thank goodness.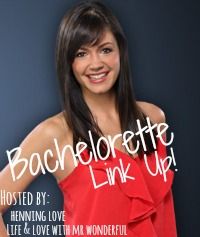 Ok I am in love with Zak W's family, they are just the sweetest. I loved his mom and her line about the roses in the center of the table and just giving it to her son right now.
Geesh, Zak, man, I didn't give him much of a shot during the first night but now I think he has a shot for sure!
Then onto Drew's hometown, oh gosh then Drew's mom what a sweetheart too, bring on the tissues. Seriously, the whole hometown with Drew's family was tears and emotions.
Moving on, Chris's, the poetry guy, hometown date, and how did I miss that Chris played professional baseball. Did anyone else pick up on that earlier this season than last night's episode? I thought all he did was write poetry. Or come up with cheesy lines, like the heart and chris on the tar underneath the eyes, because as he pointed out you already have eyes.
Is being adjusted by potentially your future father-in-law the new version of the Meet the Parents lie detector test? Anyone else experience this when you first met your future father-in-law?
Then everyone breathe a sigh of relief, the mom likes Des. Hey Chris, sorry to break the news to you but what you are feeling towards Des is felt with the other three guys too, that is just how the game is played.
Finally it is Brooks' turn to put on the perfect hometown scenario. Brooks, that is awesome to hear that you feel you have a good relationship and you realized that there is more to it. Oh Des stop kidding us you don't just picture a life with Brooks, you want a life with Brooks. Remember in last week's episode, you basically blurted out you love him.
Then we moved onto Des's brother, dun dun duuuuun!!!
Oh yah remember Des you did say you loved Brooks last week, you act as though oh shoot can I take that back? Considering he is the only one who hasn't said it yet, yah I would be nervous and worried too that it is an unrequited love.
Oh dang Zak, Zak, Zak, not gonna lie seeing him going home hurt me a bit.
On to the final three...