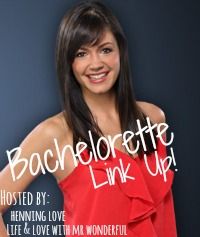 Ahh falling in love.... Apparently it will happen in every city that Des visits because she says it at the beginning of the most recent episodes. Anyone else notice that?
Drew's date: He sure is a kissy fellow that Drew is. Does every guy really want to tear up in front of Des? It certainly brings out the hugs from her though so bring on the sob stories and tears.
Was that another private concert? How many are we up to right now? A lot, like every solo date!
Holy moly, making out again?? Did Des not get to finish her dinner?
Of course Des had to bring Juan Pablo on the soccer date, I mean c'mon it would be like bringing a chef to a cooking class date. Plus Des can look at Juan Pablo all she wants without having to give an excuse. All the look on the guys' face when the girls were walking onto the field was, "be prepared to loose. We are playing against girls, are we serious?"
James isn't into anything but he is plotting his move to get into the final 4 to hopefully guarantee a shot at being the next bachelor.
No offense but I don't think Chris is good looking, compared to the big, beefy, burly rest of the contestants, Chris looks like a white toothpick to everyone else.
Then here we go, the confrontation between James and Des. It is giving me a headache, who says things like that? Someone who is getting a headache having to defend himself, then bring on the waterworks! And then the look of horror and shock on all the guys' faces when James walked back into the room!
Then Zak W's date at an artist studio. Thank goodness I wasn't on that date, I have no artistic skills whatsoever and a bunch of stick figures would have ensued. Oh Zak bad choice on adding the color onto her face, you do realize her skin tone is much lighter than the colors you selected, don't you? Then the nude model dropped his robe and the black box appeared. Of course, Zak didn't want to be upstaged by the random naked guy but the briefs stayed on. I mean he met her for the first time ever without his shirt off so taking the pants off is the next logical step. Sean thinks Zak is the front runner and could win the whole thing, bold prediction there!
The date ends and Zak was trying to talk about his date but then Des returns to finish her "conversation" with James. And then just like that he stays and they embrace and his purple shirt has sweat stains in an awkward place.
Regardless of whether James said what he did or didn't, the world will never full know because he didn't receive a rose anyways. Then Juan Pablo and Kasey too went home. Kasey I didn't see much of a connection between her and him anyways. Plus never being on a solo date doesn't give you a fair shot at getting to know Des. And the saga continues next week...