Oh Bachelorette you are back for another week! After last week's snoozefest, yes even though I didn't blog about it because I was in Seattle, I certainly watched the episode, you better believe I did!
The preview of last night's episode in one word, drama! But then again when doesn't ABC try and make every Bachelorette or Bachelor episode drama-filled.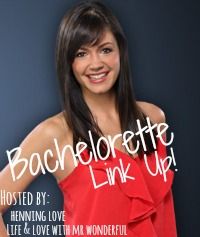 Oh how awkward was it to watch Bryden try and find Desiree to tell her he is leaving while she is on a date with another guy?? Really, Bryden you couldn't have picked a better time? Ok so my front runner is gone, buh-bye Bryden! Congrats on flying all the way to Germany to turn right back around and go back to the USA. Then my husband said "cue, cheesy guitar music!" During the after dinner dancing with YET another private concert, Chris is smitten, just smitten!
The group date, hey Kasey guess what it is winter in Germany, so yes there will be snow on the ground, news flash! Why did Brooks get the rose? He didn't get any air time during the group date, oh well.
Then the most fun date scenario in the world, the 2 on 1 date, which at some point of the date becomes a 1 on 1 date. Can't say I ever wished to go on one of these dates myself!
Oh the potential polar bear plunge saved by the hot tug, thank goodness for the hot tug because the last time I remember a polar bear plunge, some faked hypothermia resulted... ;-)
Then boom just like that Michael stays and Ben goes! After all of that badgering, the beat down the entire date, he goes home. But that car ride showed his true colors.
Oh no rose ceremony, totally puts a glitch into the guys plan to throw James under the bus!
Pretty boy #1, Mikey, has left the building being the one left without a rose after tonight's ceremony.
Ok your time, link-up and let us know your thoughts on last night's episode!