Before I dish about last night's episode, next week Stesha of
Classic and Bubbly
will be hosting the link-up. Both Kasey and I will be on vacation so she has graciously stepped up to host the link-up. I will post a reminder next Tuesday too.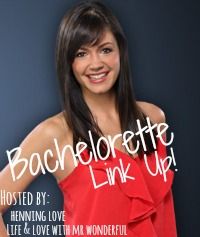 Ok last night's episode! A group date to play dodgeball! Do memories of the girls playing roller derby during Sean's season ring a bell?? By the way Brooks a top knot look only looks great on a sumo wrestler, just sayin...
Was it really necessary for Chris to come in and instruct them to play against each other now? Maybe he is feeling left out and wanted more air time this season. Then some guys are just not meant to wear short shorts speaking to most of them.
So the solo date, Kasey, hm.. maybe he should continue the namesake and get a guard your heart tattoo. Oh wait that act is reserved for creepy Brandon!
It was really annoying watching all the guys talk to Desiree and tell her why THEY deserve the rose. Then who suddenly makes a miraculous appearance, Brooks and his broken finger! Brooks looked like why didn't I get the rose? I broke my finger at all, don't I deserve a rose for that? What is really a kicker to Brooks and all the other guys is to have to listen to the private concert that Des and Chris get while slow dancing and sucking face. Lets all say it together awkward!
Before Kasey, we have the infamous boy bachelorette contestant has a girlfriend he has forgot to mention scene! Did you see that lip lick? Totally guilty and totally caught in the act! Then like that bam! Good-bye.
Despite the wind storm, Des still manage to save the rose from being blown away and they still made out? So was it a real loss in the end?
How many guys are really excited to see horses pulling a carriage when you are off on your group date? I mean seriously! I dont have a whole ton to say about the rest of date. Then the pool party but first a car ride with Ben.

Oh Brandon you can come up with a better line to give Des a kiss or maybe wait until she was really feeling it because that look on her face was not a pleasant one.
The rose ceremony - first, Des's dress Sean said yikes! Then I told him she designed it herself and he said don't quit your job day. Brandon is so shocked or as he says smashed by a hammer! I didn't even know who Dan was anyways so I'm ok with him leaving.